LIRH Annual Conference 2022 – The ongoing therapeutic trials on Huntington Disease
The LIRH Foundation Annual HD Conference is finally back in person!
We will share with you an update on developments in clinical research on Huntington's disease. As always, guests from the world of industry, research and institutions will provide an overview of what there is to know and understand. Participation is free but you must register by clicking HERE.
You can find the Conference program at the bottom of this page.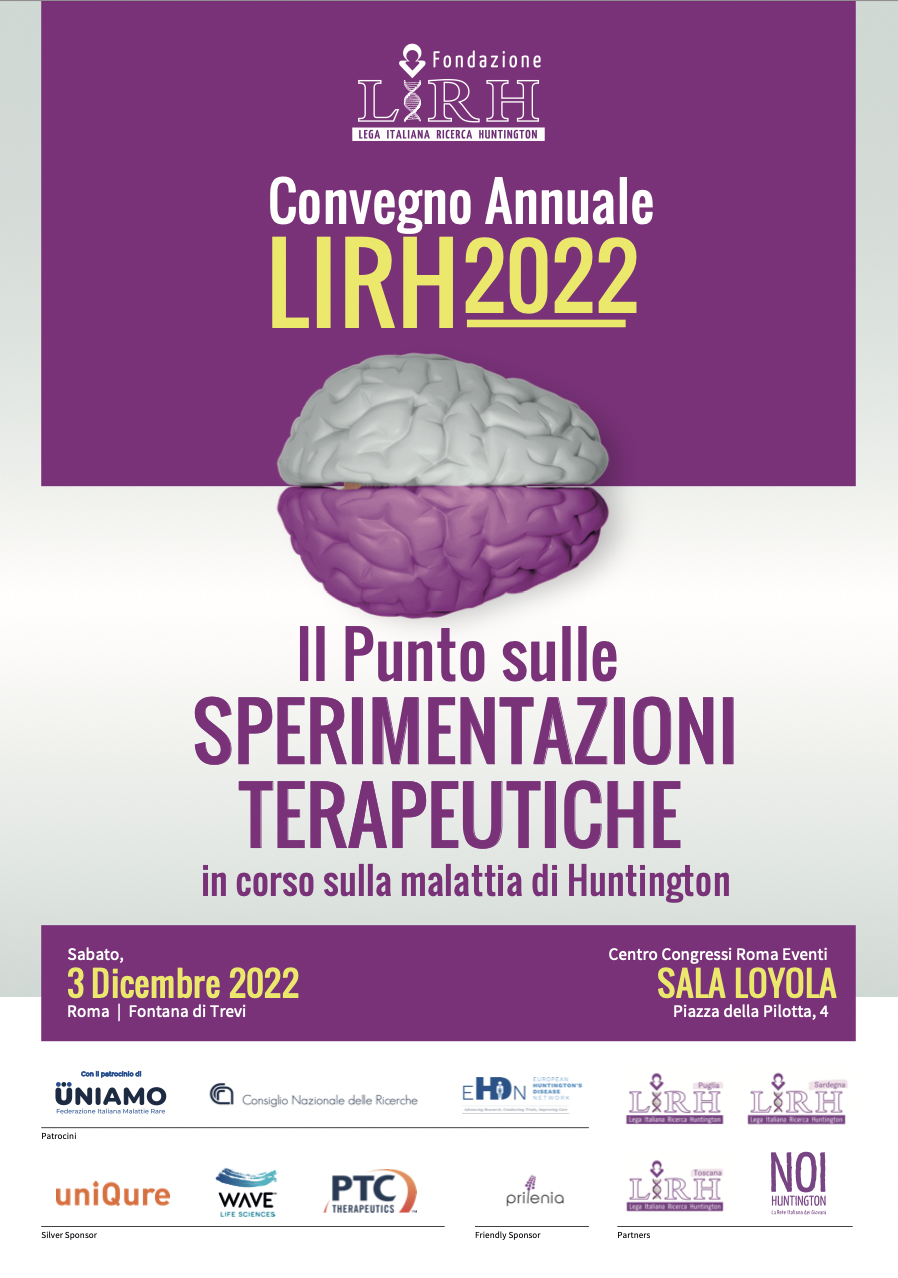 Add to calendar
2022-12-03 09:30:00
2022-12-03 15:00:00
Convegno Annuale LIRH 2022 – Il punto sulle sperimentazioni terapeutiche in corso
Convegno Annuale LIRH 2022 – Il punto sulle sperimentazioni terapeutiche in corso - https://www.lirh.it/it/event/2022/12/03/convegno-annuale-lirh-2022-il-punto-sulle-sperimentazioni-terapeutiche-corso
41.898987167383, 12.484413728913
LIRH - Lega Italiana Ricerca Huntington e malattie correlate onlus
info@lirh.it
Europe/Rome
public
Type of event
Convegno annuale
Max number of partecipants
300
Tickets available
Ancora pochi disponibili
Venue
Piazza della Pilotta 4, Roma
41.898987167383, 12.484413728913
Speakers
Eva Pesaro
Vice-president of UNIAMO Italian Federation of Rare Diseases Associations. President of AISP, Italian Association of Poland Syndrome, since 2003. Degree in Economics from the University of Genoa. Solid administrative experience. Eva has twenty years of experience in rare diseases as a patient advocate, especially on patient involvement in scientific research.
Alessia Migliore
Alessia is from an HD family. She is co-founder and currently President of NOI Huntington, The Italian Youth HD Association. She works as a Psychiatric Rehabilitation Therapist at the Mental Health Department in Naples.
Giuseppe Scandale
Part of the 'LIRH family' since many years. President of LIRH Toscana, HD family association. Aware of the power of information, that helps many families learn about HD and the available treatments options, we promote a lot of dissemination initiatives. Proud to have approached many HD hidden families, who then reached out our Foundation.
Daniel Leonard
Daniel Leonard is the Senior Director of Global Patient Advocacy at uniQure, a pioneering biotechnology company developing gene therapies for rare diseases. UniQure has an active clinical trial in Huntington's disease, and Dan works closely with Huntington's disease patient organizations. He serves as an ambassador to the patient community and as an internal advocate for patients' interests. Dan has spent over 21 years working in the biotech industry. Prior to joining uniQure, he spent 16 years at Genzyme, a company known as a leader in patient centricity. He is now a frequent speaker at conferences on the topic of patient advocacy with a focus on the gene therapy space.
Alessandra Baroni
Senior Medical Affairs Director Italy per PTC Therapeutics. We are committed to patients suffering from serious rare diseases by developing innovative therapies with the mission of providing access to the best treatments for those with unmet needs medical needs
Y Paul Goldberg
Dr. Goldberg is the Chief Scientific Officer and Head of Early Development at Prilenia Therapeutics. Dr. Goldberg is deeply involved in broad aspects of the ongoing PROOF- HD study including clinical development, operational, statistical, regulatory and safety issues. Dr. Goldberg serves as company physician and manages the company's safety function. Dr. Goldberg brings more than 20 years' experience working across drug discovery, clinical development and medical genetics. Prior to his career in the industry, Dr. Goldberg obtained an MB ChB and PhD at the University of Cape Town, South Africa. He completed postdoctoral work at The University of British Columbia, Vancouver where he focused on Huntington's Disease and was involved in several key contributions delineating the molecular genetics of the disease including the characterizing the molecular basis of anticipation and new mutations. Dr Goldberg obtained his fellowship in medical genetics (FRCPC) from the University of British Columbia and practiced as a medical geneticist for many years with a focus on adult neurogenetic disorders.
Chelley Casey
Chelley Casey is the Vice President of Patient Advocacy at Wave Life Sciences. The patient advocacy team supports several disease areas to communicate the promise of Wave's ongoing clinical programs, preclinical pipeline, and technology platform. She and her team are focused on building authentic and productive relationships with advocacy organizations and representing the patient voice within Wave to better inform corporate strategies and key decisions and nurture a patient-centric culture. Previously, Chelley spent over a decade each at Vertex building and leading teams across patient advocacy, patient engagement, and patient services and at Biogen in a variety of patient services and commercial roles. Chelley holds a BS in Biology from Elmira College, as well as a Master's in Public Health from Boston University. When not at work, Chelley enjoys time with her husband, kids and dog traveling, cooking and being active outdoors.
Barbara D'Alessio
President and CEO of the LIRH Foundation, graduated in law from the Sapienza University of Rome, Master in Marketing and Master in Patients Advocacy Management from the Cattolica University in Rome. She has over 20 years of experience in the non-profit sector. She has been active in the Huntington Community since 2012.
Ferdinando Squitieri
Ferdinando Squitieri is a neurologist with a PhD in Neurobiology. He has been studying and treating patients with HD and juvenile onset HD (JoHD) over the last 30 years. He is Head of the Huntington and Rare Diseases Unitat Fondazione IRCCS Casa Sollievo Sofferenza Research Hospital in San Giovanni Rotondo and Head of the Neurology Departmentat CSS-Mendel Institute In Rome. He Is also Co-founder and scientific officer of Lega Italiana Ricerca Huntington (LIRH) Foundation and associated researcher of the Italian National Research Council (CNR).
Alessia Zurru
Degree in Biological Sciences at the University of Cagliari, Master's in journalism and Communication of Science at the University of Ferrara. She lost her mom in 2015 because of HD. In 2018 she decided to take an active role in creating a Huntington network that would bring together Sardinian families. In March 2022 Alessia co-founded the Association LIRH Sardinia.
Catherine Scart
Dr. Catherine Scart MD, is currently Chief Medical Officer, leading the Clinical Operations and Regulatory Affairs at SOM Biotech, a small company established in Barcelona (Spain) focused on the discovery and development of therapies for the treatment of neurological orphan diseases, of which the most advanced program is SOM3355 in the treatment of chorea in Huntington's Disease.
Selene Capodarca
Selene Capodarca is the Enroll-HD Global Project Manager, a global research platform for Huntington's Disease, and has been working for the European Huntington Disease Network (EHDN) since 2013. Selene holds a master's degree in Pharmaceutical Chemistry and Technologies from the University of Florence. Prior to working with EHDN She worked for 13 years in clinical research, for different entities such as pharmaceutical and biotech companies, CROs and not-for profit organizations. She lived and worked in Ireland, United States and Italy and developed her experience in multiple indications, but with a strong focus on neuroscience. An associate member of Factor-H, Selene is also managing the program Street Art for HD, a Factor-H funded project that and aims at increasing visibility of HD-affected communities in Latin America, and around the world through street art.
Nicola Micchetti
Nicola Micchetti, 76 years old, President of the LIRH Puglia Association, engineer, former Coordinator of the Technical Sector of the Autonomous Housing Institute of the Province of Bari and currently retired. "Having had my wife suffering from Huntington's disease, I had the opportunity to meet Prof. Squitieri and his team. I appreciated their strong expertise and great humanity, so I joined the LIRH family with the aim of spreading the knowledge of HD, to support the Association growth and to be of help for those who are in difficulty in finding solutions to welfare problems by public institutions in ordinary daily life".
Sandra Petraglia
Sandra Petraglia is Director of the Pre-Authorization Area of ​​AIFA, where she coordinates the activities related to early access to drugs, clinical trials and AIFA tenders for independent research. She is the Italian delegate to the groups of the European network on clinical trials (National Competent Authorities, EU Commission and EMA) since 2015, actively participating in the processes of implementation of national and European legislation on clinical trials and AIFA representative in the European initiative ACT- EU (Accelerate Clinical Trials in the EU). Dr. Petraglia has worked at AIFA since 2004, where she managed the coordination of European authorization procedures until 2015, also dealing with the clinical evaluations of drugs market access requests; previously, she was Secretary of the Medicines Advertising Commission at the Ministry of Health. MD, she has a specialization in Dermatology and a PhD in Dermatological Immunology. Before working at AIFA she worked in oncology and dermatological immunotherapy in clinical and university settings.