Help us make the difference!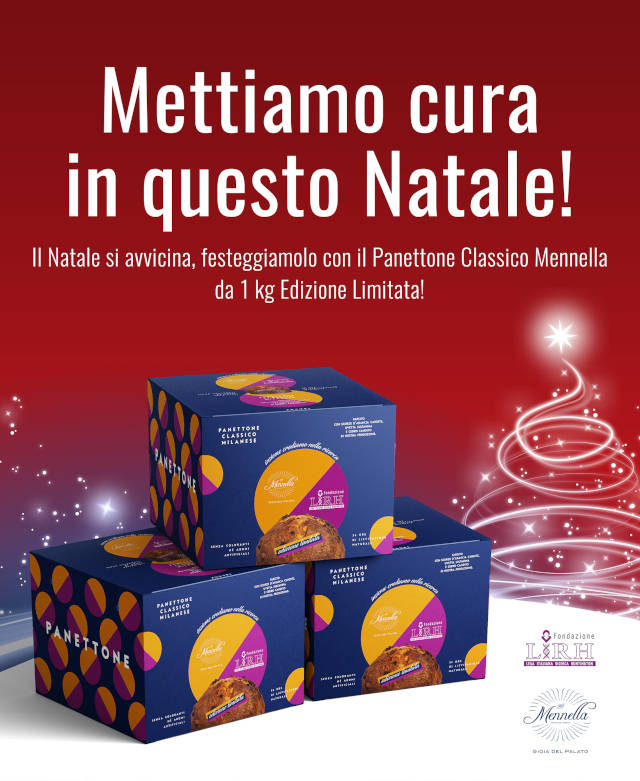 Help Us Make the Difference!
Buying the Classic Christmas Mennella Panettone for LIRH - Limited Edition, you will support the LIRH Foundation research projects for the sake of Huntington Disease affected people.
Join our sweet Christmas Campaign!
Christmas is approaching, let's celebrate it with The Classic Mennella Panettone 1 kg Limited Edition! You will support research and free of charge clinical services provided by LIRH Foundation.
Buy it for yourself and your family, as well as for your relatives and friends. Get ready to savor a special Christmas. The edition is limited, so hurry! The Classic Mennella Panettone 1 kg Limited Edition can be exclusively purchased online on the website www.pasticceriamennella.it at the cost of €37.00, starting from the early days of November.
Pasticceria Mennella was founded in 1969 by Antonio Mennella in Torre del Greco, close to Naples. At that time, sweets were handmade, with each step executed with care and passion, using the finest ingredients: flour, eggs, butter, milk, natural yeast mixed and combined in perfect balance. Over 50 years have passed since then, but nothing has changed in this regard. Brothers Giuseppe, Vincenzo, and Roberto have continued the family tradition over the years, preferring quality and a love for first-choice raw materials, allowing the company to expand and become known for its sweet creations. Today, Pasticceria Mennella owns 5 Pastry Shops and 10 Ice Cream Parlors in the areas of Torre del Greco (NA), Portici (NA), and Naples. Those who love quality choose Mennella. Since 1969.
"The idea of dedicating one of our Artisanal Panettone to this initiative is linked to the desire to make Huntington's disease research even more alive during the Christmas season. By purchasing our Panettone in collaboration with the LIRH Foundation, we will contribute to giving HD affected families hope for a better future, with the hope that it can become real as soon as possible," is the message from Vincenzo Mennella, whom we sincerely thank for his generosity and support.