LIRH Annual Conference 2020 - The Current treatment Perspectives for Huntington Disease
Online, 12 12 2020
The 2020 Annual Conference will take place online due to the contingent health situation, which still requires prudence in travel and aggregation. All interested people will have the opportunity to get updates and ask questions about the ongoing and upcoming clinical trials on Huntington's disease, directly to the representatives of the pharmaceutical companies. The simultaneous translation from Italian into English and vice versa will be guaranteed throughout the entire webinar.
The conference will last 3 hours: from 10.00 to 13.00 (CEST). 
Clink here to read the platform instructions for the viewers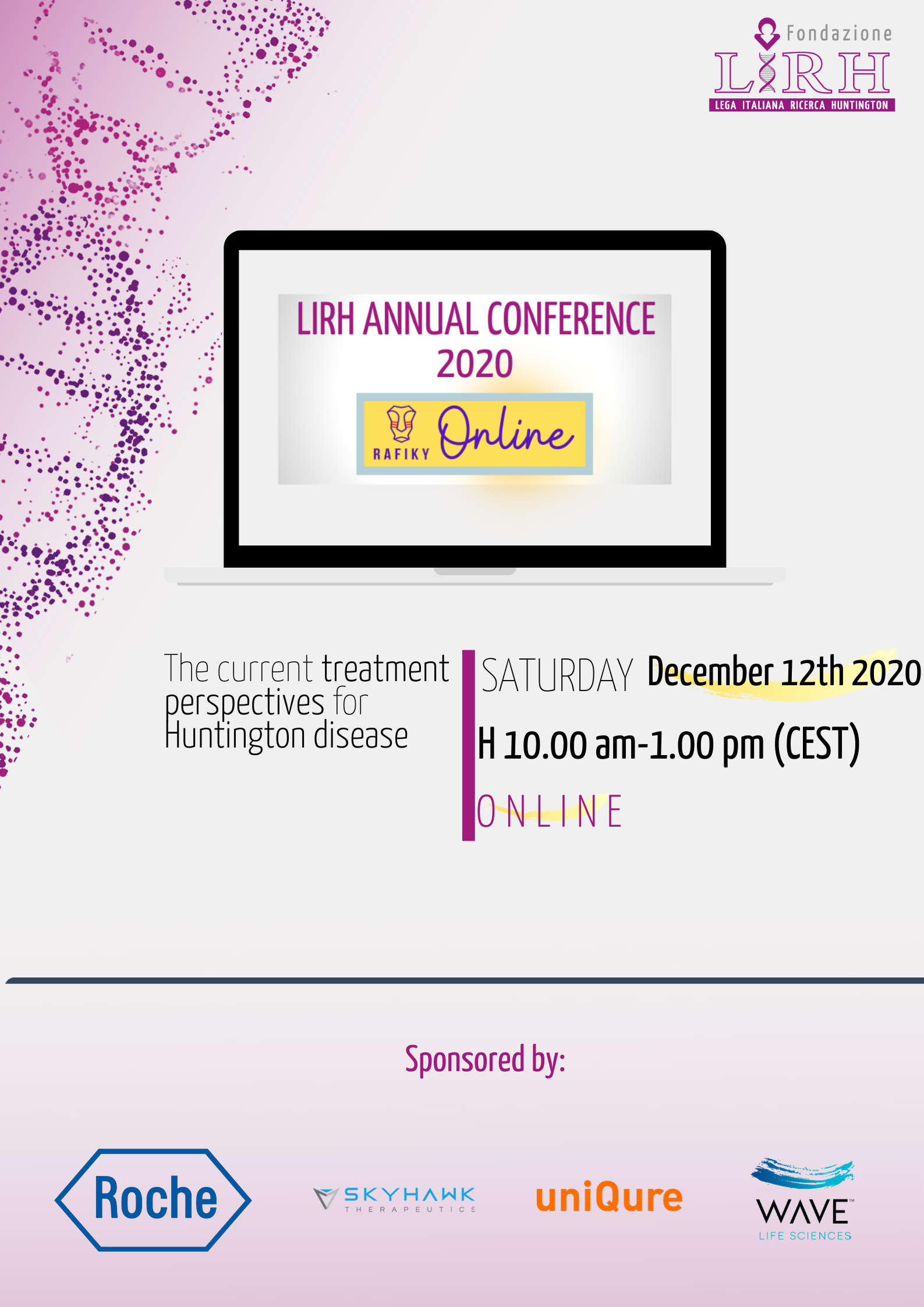 Add to calendar
2020-12-12 10:00:00
2020-12-12 13:00:00
Convegno Annuale LIRH 2020 - Le attuali prospettive di cura per la malattia di Huntington
Convegno Annuale LIRH 2020- Le attuali prospettive di cura per la malattia di Huntington - https://www.lirh.it/it/event/2020/12/12/convegno-annuale-lirh-2020-le-attuali-prospettive-di-cura-la-malattia-di
,
LIRH - Lega Italiana Ricerca Huntington e malattie correlate onlus
info@lirh.it
Europe/Rome
public
Type of event
Convegno annuale
Max number of partecipants
500
Tickets available
Ancora pochi disponibili
Speakers
Marco Pacifici - Roche
Dr. Pacifici serves as Rare Conditions Partner in Roche, with a focus on Huntington Disease. His aim is to co-create, together with the HD community, innovative solutions bringing more value to the HD families  
Dr Marco Pacifici earned his international PhD in Neuroscience at Temple University in Philadelphia and he worked as Research Associate at LSU Medical School in New Orleans. His Scientific Research focused on molecular pathways involved in neurodegeneration and in biomarkers' development for neurodegenerative diseases. In 2013, funded by a 3 years european research grant, he moved back to Italy at the University of Padua to carry out his research project independently, and in 2016 he decided to join a neuroscience biotech company managing the compassionate use program and the launch of the first Disease Modifying Treatment (DMT) in Spinal Muscular Atrophy, a devastating and life-threatening neuromuscular disease.
Vissia Viglietta - Wave Life Sciences
Dr. Viglietta currently serves as Vice President of Clinical Development at Wave Life Sciences, where she oversees Wave's clinical development efforts, as well as Wave's medical affairs activities. 
Dr. Viglietta has more than 12 years of experience in neurology clinical development across multiple indications. Most recently she was Vice President of Global Clinical Development at Decibel Therapeutics focusing on gene therapy. Prior to Decibel, she worked at Biogen and Amgen with increasing levels of responsibility in late-stage clinical development. During this time, her focus was primarily on multiple sclerosis (MS) and Alzheimer's disease (AD). Notably, Dr. Viglietta played a key role in the development and regulatory approval of TECFIDERA for MS and the launch of the Phase 3 program for aducanumab in AD while at Biogen. She started her career in clinical development at EMD Serono (then called Merck Serono). Prior to entering the biotechnology industry, Dr. Viglietta spent eight years focused on basic and clinical research in immunology and cellular biology at Harvard Medical School, first as a post-doctoral fellow, then as faculty. She previously earned a medical degree and PhD at La Sapienza University of Rome in Italy.
Michael Hayden - Prilenia Therapeutics 
Dr. Hayden, accomplished scientist and physician, is President and CEO at Prilenia Therapeutics. He is a Killam Professor at the University of British Columbia and Senior Scientist at the Centre for Molecular Medicine and Therapeutics. 
He was the President of Global R&D and Chief Scientific Officer at Teva from 2012-2017. During this time approximately 35 new products were approved in major markets with many for diseases of the CNS. In 2015 Teva R&D was recognized as one of the 10 most exciting innovators in Pharma by IDEA Pharma and in 2017 Teva R&D ranked top of the industry for CNS development and clinical trial success rate by Pharma Intelligence. Dr. Hayden was named one of the 50 Canadians born in the 20th century who have changed the world. Dr. Hayden is the co-founder of five biotechnology companies including: Prilenia, NeuroVir Therapeutics Inc., Xenon Pharmaceuticals Inc., Aspreva Pharmaceuticals Corp and 89bio. He currently sits on different public and private boards of biotechnologies companies. Author of approximately 900 peer-reviewed publications and invited submissions, Dr. Hayden has focused his research primarily on translational medicine, including genetics of diabetes, lipoprotein disorders, Huntington disease, predictive, personalized medicine and drug development. Dr. Hayden and his research group have identified 10 disease-causing genes which includes the identification of the major gene underlying high-density lipoprotein (HDL) in humans. Dr. Hayden also identified the first mutations underlying Lipoprotein Lipase (LPL) Deficiency and developed gene therapy approaches to treat this condition resulting in the first approved gene therapy product (Glybera) in a major market. Dr. Hayden is the most cited author in the world on ABCA1, and Huntington Disease. Dr. Hayden is the recipient of numerous prestigious honours and awards. He was inducted into the Canadian Medical Hall of Fame in 2017. He was named one of PharmaVoice's "100 of the Most Inspiring People" (2015); awarded an Honorary Doctorate of Science from the University of Alberta (2009) and by the University of Gottingen (2014); the Luminary award by the Personalized Medicine World Conference (2014); the Diamond Jubilee Medal (2012), on behalf of HRH Queen Elisabeth II, in recognition of his significant contributions and achievements; the Margolese National Brain Disorder Prize (2011), awarded to Canadians who have made outstanding contributions to the treatment, amelioration, or cure of brain diseases; the Killam Prize by the Canada Council of the Arts (2011), in recognition of his outstanding career achievements; and the Canada Gairdner Wightman award (2011), recognizing him as a physician-scientist who has demonstrated outstanding leadership in medicine and medical science. Dr. Hayden has also been awarded the Order of Canada (2011), and the Order of British Columbia (2010). He was named Canada's Health Researcher of the Year by CIHR (NIH of Canada) in 2008, and he received the Prix Galien in 2007, which recognizes the outstanding contribution of a researcher to Canadian pharmaceutical research. Dr. Hayden is committed to empowering others. In addition to mentoring over 100 graduate students and postdocs, he is also a TED mentor.
Ferdinando Squitieri
Ferdinando Squitieri is a neurologist with a PhD in Neurobiology. He has been studying and treating patients with HD and juvenile onset HD (JoHD) over the last 30 years. 
He is Head of the Huntington and Rare Diseases Unitat Fondazione IRCCS Casa Sollievo Sofferenza Research Hospital in San Giovanni Rotondo and Head of the Neurology Departmentat CSS-Mendel Institute In Rome. He Is also Co-founder and scientific officer of Lega Italiana Ricerca Huntington (LIRH) Foundation and associated researcher of the Italian National Research Council (CNR).
David Cooper - UniQure
Dr. Cooper is the Vice President of Clinical Development at uniQure, where he is the clinical program lead for UniQure's gene therapies for neurologic disorders. 
Dr. Cooper is a senior pharmaceutical professional with 20 years of experience within biopharmaceuticals and an excellent track record of driving successful cross-functional teams as the medical lead within the clinical development and medical affairs organizations. Dr. Cooper is a neurosurgeon with broad clinical development experience in the field of critical bleeding, cardiac surgery, spinal surgery, hemophilia and rare bleeding disorders. David is a unique expert who spent the majority of his industry career at Novo Nordisk where he has leveraged clinical and medical acumen to support multiple clinical development programs leading to successful regulatory approvals as well as approvals of additional product indications. Dr. Cooper is a respected expert and valued collaborator in the area of clinical trials and observational research by key opinion leaders and professional organizations with 85 publications and 194 scientific posters and oral presentations.
Maurice Zauderer - Vaccinex
Dr. Zauderer is the founder, president, and CEO of Vaccinex Inc., a public biotechnology company headquartered in Rochester, NY, USA.  
Vaccinex is pioneering a differentiated approach to treating neurodegenerative disease through the inhibition of SEMA4D, a potent biological effector whose expression is upregulated in neuroinflammatory diseases including HD and Alzheimer's. The safety, tolerability, and efficacy of Vaccinex's VX15/2503 monoclonal antibody has recently been evaluated in the Phase 2 SIGNAL trial in HD.
SESSION 1 10.00 -11.30 am (CEST)
Welcome and Opening 
Barbara D'Alessio, Executive Director, LIRH Foundation
Ferdinando Squitieri, Head of the Huntington Research Unit Casa Sollievo della Sofferenza Research Hospital – LIRH Foundation Scientific Officer
Patients Perspectives - Patients and Family members
Generation HD1 - Marco Pacifici, Rare Conditions Partner, Roche
Precision HD1 and Precision HD2 - Vissia Viglietta, Vicepresident of Clinical Development and Medical Affairs, WaveLifeSciences
Proof-HD - Michael R. Hayden, Chief Executive Officer, Prilenia Therapeutics
BREAK          11.30 - 11.40 am
SESSION 2    11.40 -13.00 am  
Gene Therapy (ATM-130) - David Cooper, Vice President Clinical Development, UniQure
Signal - Maurice Zauderer, President and Chief Executive Office, Vaccinex 
Q&A and Conclusion